Married couple Stella and John Chhan have been fixtures within a California seaside city for nearly 40 years. Operating a Mom-and-Pop doughnut shop, the Chhan's have delighted millions with their yummy, sugary treats. However, Mrs. Chhan has suddenly fallen on hard times. In response to the personal turmoil of the family, the shop's loyal group of customers set out to help the Chhan family in a very heartfelt way.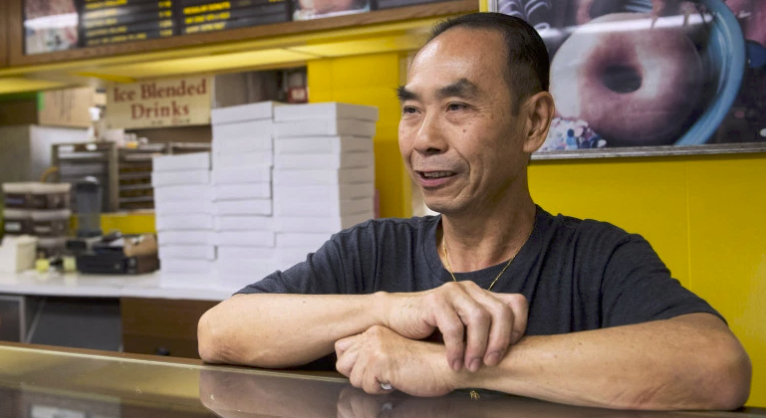 Image Source: Orange County Register
John and Stella Chhan fled Cambodia in 1979. The family ended up settling as refugees in the United States. Ultimately, the Chhan family decided to open a restaurant. The focus would revolve around a timeless treat: doughnuts.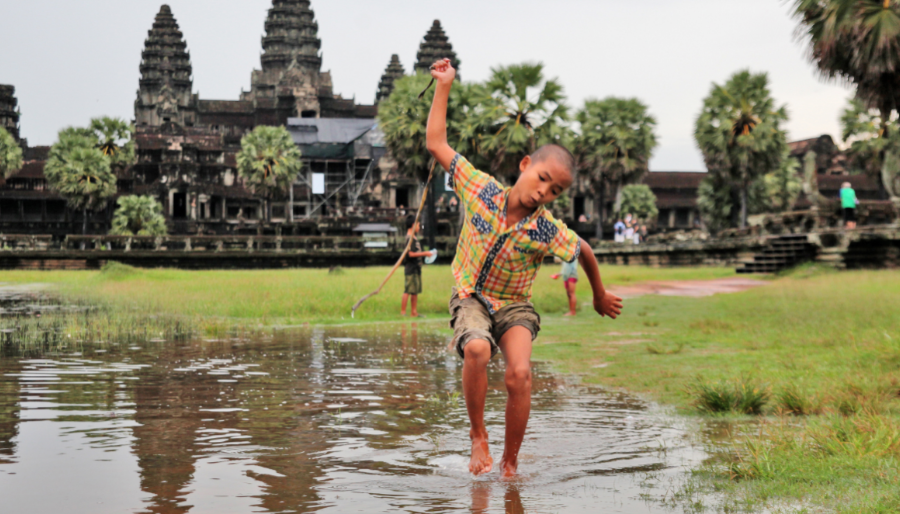 Image Source: Hong Wu/Getty Images
The Chhan family settled in Seal Beach, California. For the last 30 years, the two have been side-by-side in operating a very popular shop called Donut City. John and Stella would take turns in working behind the counter — as well as making the donuts.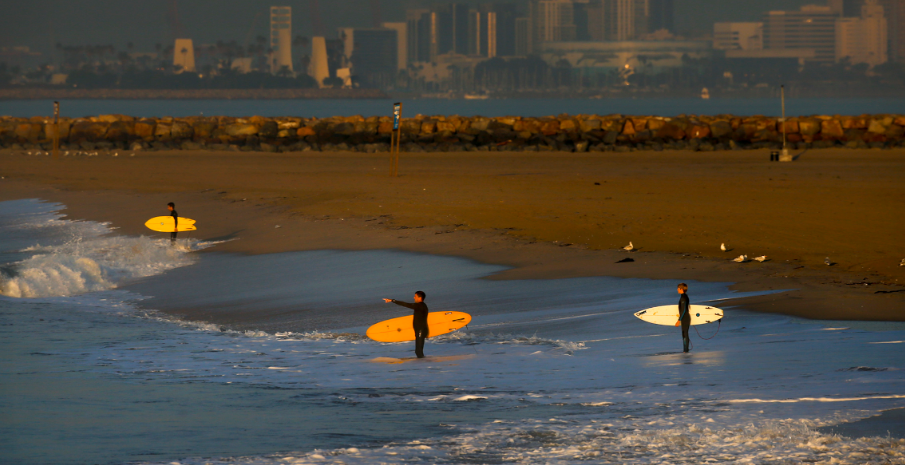 Image Source: Mark Boster / Los Angeles Times via Getty Images
The store itself became a very popular attraction within this seaside town. Families began frequenting the shop in search of high-quality donuts. Whereas other big-name brands may appeal to some, Donut City latched onto a deeply-rooted foothold in the city of Seal Beach. As such, Donut City became a neighborhood institution along the famed Pacific Coast Highway.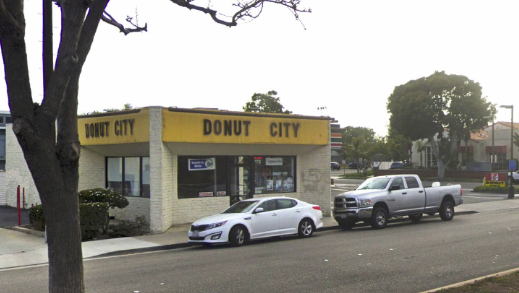 Image Source: The Washington Post
Donut City in particular is known for their fantastic prices. A cake donut costs only $0.90, and glazed donuts go for only $1.05. Muffins and cinnamon rolls also fly off the shelf at this spot. The Chhan family operates this store 7-days-a-week with warmth and friendliness. However, one day, something rather tragic occurred to Stella Chhan.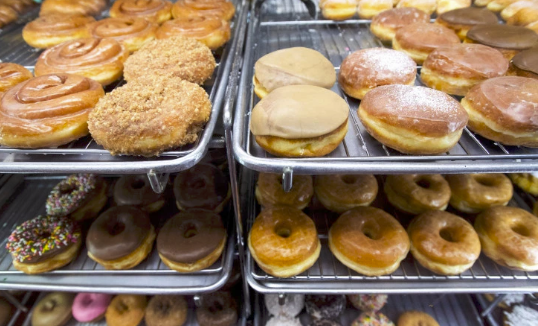 Image Source: OC Register
When visiting the shop, customers began to wonder where Stella had gone. Only John was at Donut City manning the front. Concerned about her whereabouts, customers asked John about Stella's status. Unfortunately, John relayed some rather heartbreaking news.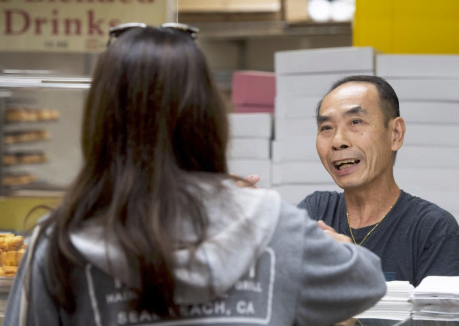 Image Source: OC Register
When at a wedding party for friends, Stella began feeling dizzy. John then realized that she was visibly disoriented. She was immediately taken to a hospital, where it was deemed that Stella did endure an aneurysm. A brain scan also revealed a bulging artery. For the next two weeks, the lives of both John and Stella Chhan changed forever.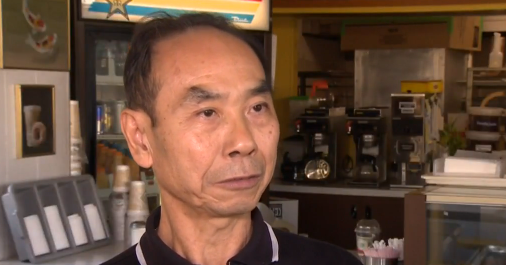 Image Source: People Magazine
Stella was reportedly in a coma-like state. She wasn't able to verbalize anything for multiple weeks. After 14 days had passed, Stella fortunately was able to communicate with her husband. Stella was sent to a nursing home for recovery. Upon hearing the news, the customers of Donut City decided to do something absolutely magical for the loving couple.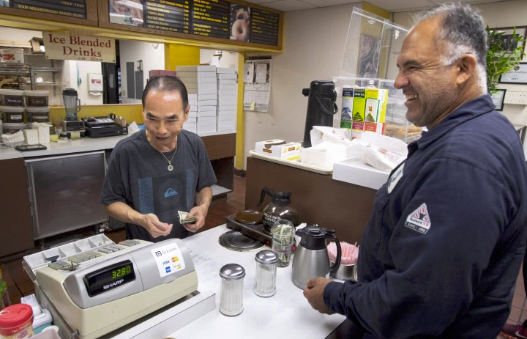 Image Source: OC Register
Customers approached John about starting a GoFundMe page in order to raise money for his wife's medical costs. While appreciative of the ideas, John admitted that money was not an issue. Simply put, the only thing he wanted to do was to spend time with his wife once the store sold out of donuts. This revelation got the community thinking about putting a plan into place.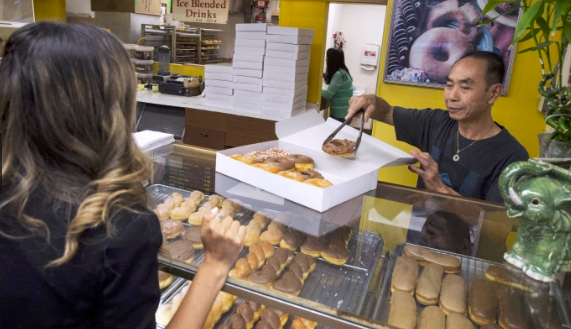 Image Source: OC Register
Community member Dawn Caviola — also a passionate and supportive customer of Donut City — sprung into action. She visited the website Nextdoor. From there, she made a very specific post on the neighborhood message board. This single message got the city of Seal Beach into a complete frenzy.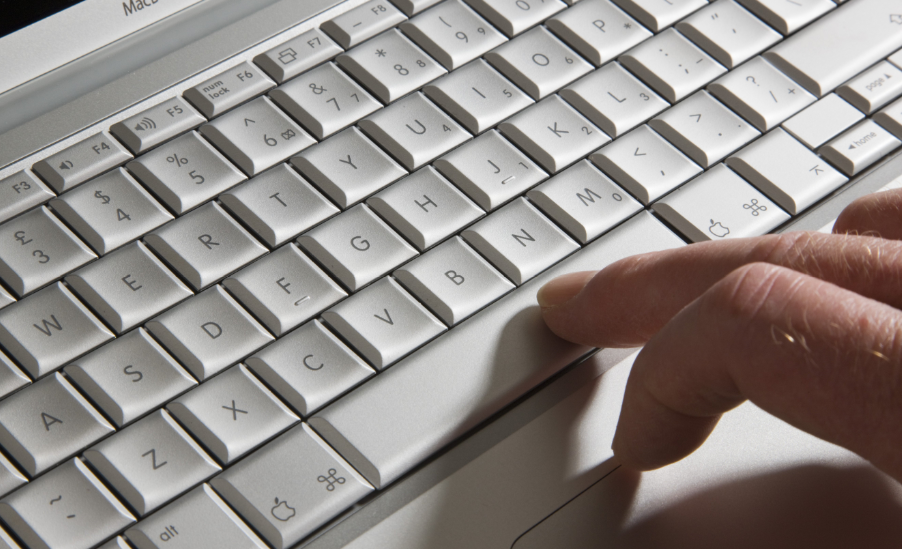 Image Source: Tim Graham/Getty Images
Caviola offered the suggestion of visiting the donut shop early in the morning. From there, everyone would buy a dozen donuts as a means to sell the store out much earlier than normal. This would then enable John to go visit Stella at the nursing home:
"Days went by and I just couldn't get it out of my head. So I thought, if enough people would buy a dozen doughnuts every morning, he could close early and go be with his wife."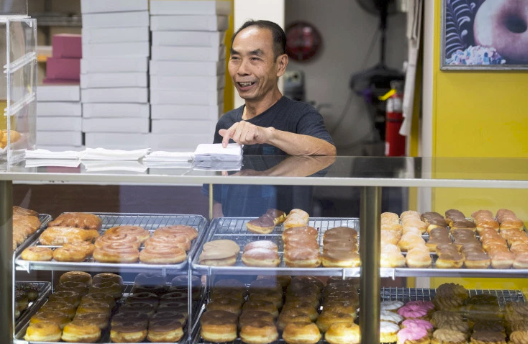 Image Source: OC Register ; Quote Source: OC Register
John normally opens Donut City at 4:10 a.m., and closes by 2 p.m. This then gives him enough time to both clean the store as well as prepare for the following day. One morning, John arrived at the store for his normal routine. Upon driving up to the entrance, he couldn't believe what he saw.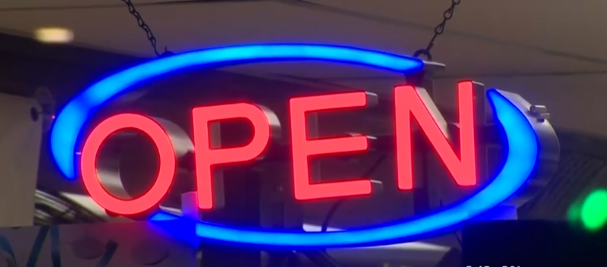 Image Source: WGN9
A line of people had formed at the front of Donut City. By 6:00 a.m., a gigantic line had formed out the door of the restaurant. Shockingly enough, John had sold 50 dozen donuts, muffins, and croissants by 8:00 a.m. This then allowed for John to spend the entire day with his wife. Many would assume this to be a one-time deal. However, little did John realize that this would become a major trend.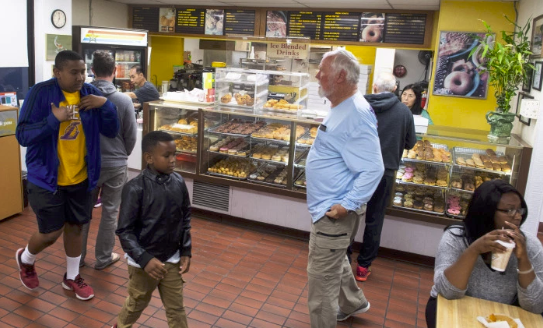 Image Source: OC Register
Customers began individually buying dozens and dozens of boxes. Donuts were shuttled to youth church groups, sports teams, events with friends, and even for personal use. The word about Stella's condition began to spread like wildfire. Soon, newsletters and posters were put up as a means to continue the purchasing of donuts from Donut City.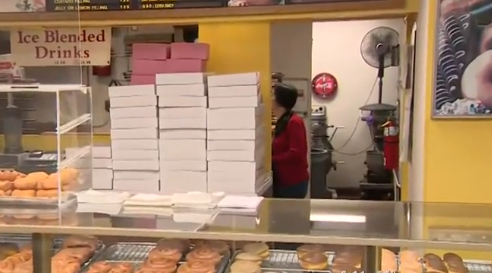 Image Source: WGN9
Many of the customers rave about the quality of the food found at Donut City. Customer Mark Loopesko not only loves the assortment of goodies at the establishment, but he — like many in Seal Beach — also care deeply for the Chhan family:
"We have watched them work extremely hard to keep their doors open and support their family. We will always support them, even more so in their time of need."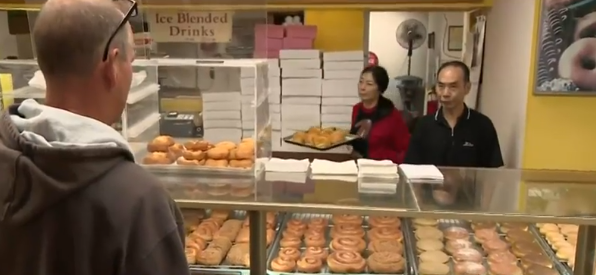 Image Source: WGN9; Quote Source: OC Register
The story of John and Stella Chhan began to spread all throughout the country. Major news outlets — such as CBS Los Angeles, KCAL, and The Washington Post — began contacting Chhan for interviews. Incredibly humble throughout the entire process, Chhan couldn't believe the outpouring of love and support he encountered from the community.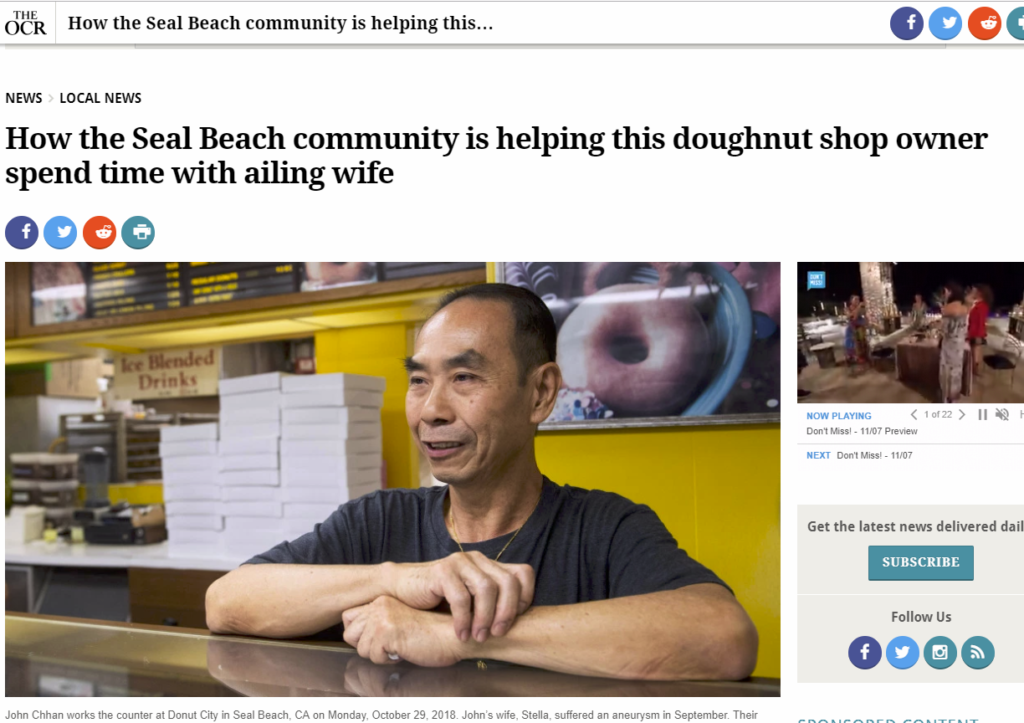 Image Source: OC Register
Loyal customer Todd Gryzwana had this to say about the rallying around John and Stella Chhan:
"It's a blessing, really. We need more people like that that help everybody in what ever need they have."
Erika Sanchez echoed the sentiment:
"This is something that will warm your heart. It's unfortunate what happened to his wife, but I really believe something like this will bring the community together. This is something we really need right now."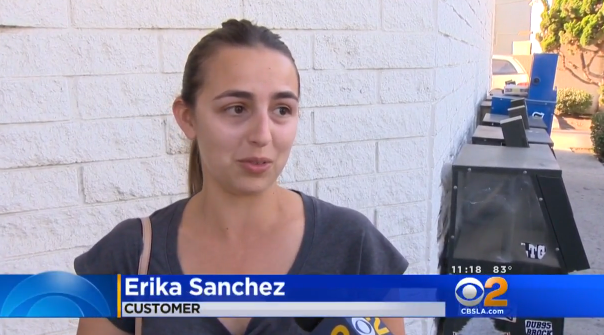 Image Source: People Magazine ; Quote Source: OC Register
It's quite beautiful to see a community rally around two individuals in need of some positivity. John and Stella Chhan have been fixtures in the area for quite a long time. When John was formally interviewed on camera by a local television crew, he couldn't hide his appreciation for what everyone had done for him and his wife. He also offered an update on Stella's condition.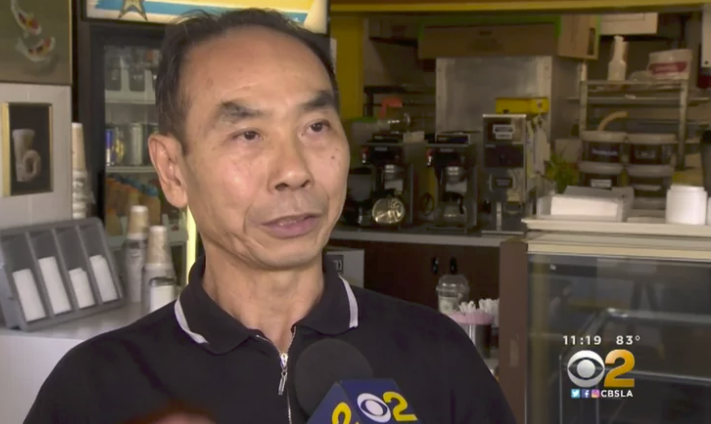 Image Source: OC Register
According to John, Stella can now talk, write, and eat solid food. Appearing quite shy on camera, John offered this simple message to those involved with helping him. Though not a man of many words, those who know John surely can feel the love from the sentiment:
"I feel very warm and I can say thank you very much."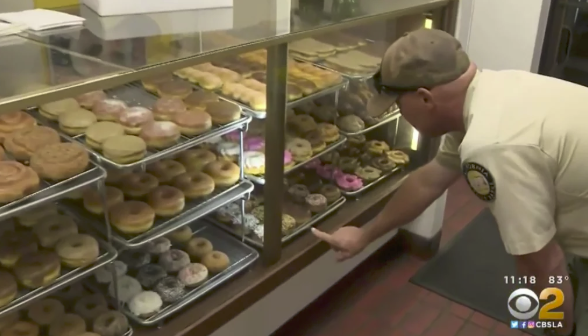 Image Source: OC Register; Quote Source: OC Register
With the entire world in a constant state of hysteria and turmoil, it takes smaller stories like this to remind us of the good that still exists. When seeing a family in need of support, a community quickly came together to help out one of their own. We could all learn a thing or two from this story involving John and Stella Chhan.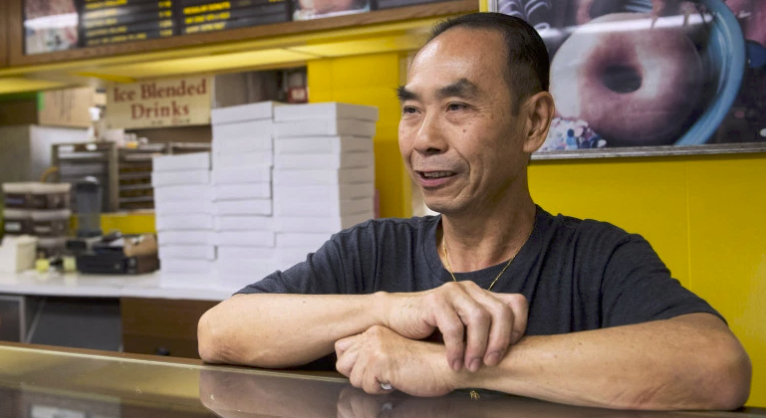 Image Source: Orange County Register